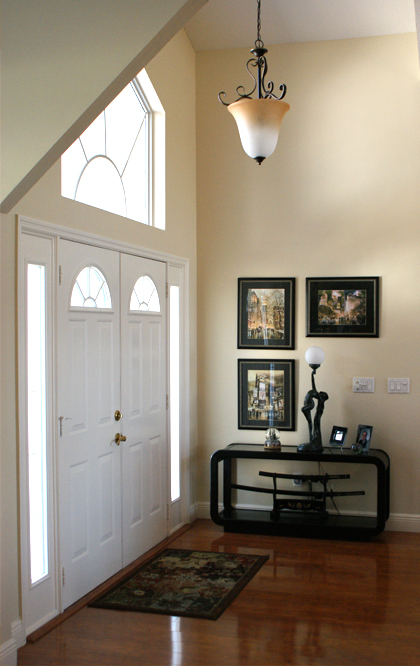 Foyers
Create an entrance to your home whether a separate space or part of the living interior that reflects the same style as the rest of your house. Through a few innovative touches, Pam makes this area inviting and exciting using custom floor designs, complimentary window treatments and special accessories that add a splash of color and texture.





Dining Room
Most contemporary homes have both a formal dining room and a nook or bar area in the kitchen space. Using elegant fabrics for covering chairs, up-dated window treatments and custom silk floral arrangements, Pam adds character and color to a formal dining room used for large family get-togethers or holiday entertaining.
Bedrooms
Not just for sleeping anymore. Pam creates this elegant retreat by integrating selections of custom bedding with complimentary window treatment and toss pillows for added color and texture.

Living Room
This is customarily the gathering spot for social activities either in the comfortable family room for daily interaction with family members or the formal, elegant living room for entertaining guests. Color-accented walls with large dramatic artwork set the stage for the living room's focal point. Contemporary pieces combined with treasured antiques create an interesting, eclectic look while fabrics, textures and florals soften the spaces.











Kitchen
The kitchen is the heart and hub of the home and is more accessible and convenient when available space is maximized for prepping, cooking and storage areas. Cabinet selection should integrate with the home's style and is key for maintaining a practical-size kitchen. Tiling the backsplash enhances the cabinets, and ties together the counter tops and floors. Working with Pam to design and draw the floor plan with elevations anticipates contingencies for the best design. Outdoor kitchens and pool areas are where Pam's design ideas can contribute to more enjoyment for your recreational space.








Bath Room
Retreats